Feet – large ones, wide ones and especially small ones, are very important to the Kilt Socks UK team (part of Endrick Trading Ltd) which is why we are so proud to be helping UK charity, Sal's Shoes.
Sal's Shoes protect the feet of tens of thousands of children by sending pre-loved shoes from the UK to places where they are most needed.
Why shoes?
For 300 million children around the world shoes are a luxury. Without them, they are extremely vulnerable to infection by parasites, such as hookworm; while injuries to the feet and ankles can lead to ulcers and other conditions which are almost always left untreated.
Without shoes, many children are not permitted to attend school.
Being parents ourselves, we know the importance of shoes and also how quickly, children can grow from one pair to another, without wearing them out.
Sal's Shoes is based on a wonderfully simple idea.
Sal's Shoes Make a Difference
CJ Bowry, Sal's Shoes founder explains,
"Three years ago, when faced with a collection of our son Sal's outgrown shoes, I sought out charities who could donate them to those most in need. Surprisingly, there wasn't a single organisation that could tell me where Sal's pre-loved shoes would actually end up."
So CJ decided to cut out the middle man.
"Having grown up in Africa, and with a network of family and friends scattered all over the world, I decided that if no-one was willing to tell me where exactly Sal's shoes would end up walking again, I would deliver them there myself. A parcel was sent to a friend overseas, who distributed them on a children's oncology ward and sent back a photograph of a child wearing Sal's first pair of shoes; Sal's pair of shoes had become another's."
After initially collecting more outgrown children's shoes from family and friends, word spread and soon I was inundated with pairs of barely worn shoes; 'Sal's Shoes' had been born.
How did we get involved?
If there is one thing we know about it, its transporting boxes of goodies worldwide and we saw an opportunity for us to get involved. Luci sent a call out to our local community to bring us their pre-loved shoes, and the people of Balfron answered.
Take a look. We filled two large boxes with pre-loved shoes and sent them to Sal's Shoes.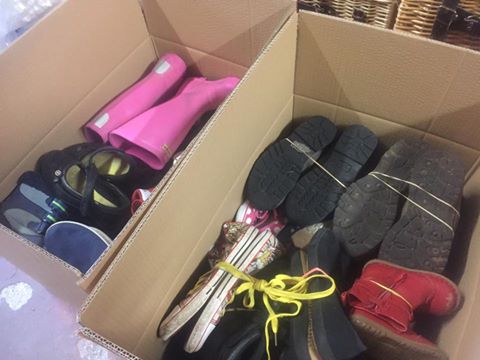 (kiltsocks.co.uk) …
We've since sent a few more boxes and it is great to know the pre-loved shoes are protecting precious feet worldwide. And we're just part of Sal's Shoes great success.
In their first year, they collected 4,805 pairs of shoes and distributed them in 8 countries, including in the UK. In 2015, their third year they collected 81,598 pairs of shoes and distributed them in 26 countries.
If you would like to be involved, you can find a location collection point here. Or if you're near to Balfron in Scotland, drop us a line. We're still collecting.